<!body background="testbkground1.jpg"> <!BODY BGCOLOR="#fffe80" TEXT="#000000" LINK="#0000FF" VLINK="#FF0000"> <!BODY BGCOLOR="#F6D5C3" TEXT="#000000" LINK="#0000FF" VLINK="#FF0000">

Main Index


Frank and Kate's Web Page
---

Frank's Duplicate Books. Main Index - Herpetological Books, Papers, Magazines, Journals, Newsletters, Etc - Which are all For Sale !!.

Bern Tryon Herpetological Library - Main Page. Includes links to both the Book List & the Reprint List, Titles which are for sale with all proceeds going to long term field work for the Southern populations of the Bog Turtle. Buy a book - Help save a turtle!

Western Pond Turtle Project
Information about the project including lots of photos, From the Ponds, bibliography, and much more.

Our Cameroon Art Project

Reptiles and Amphibians in Captivity - Breeding - Longevity
Contains captive breeding records from 1984 - 1997 for all species of reptile or amphibian.
We have decided to stop updating the breeding & longevity pages due to lack of interest from the private sector.

Current - Status of these pages.
---
---

Index


Go Top
---
---
Frank & Kate Slavens
P.O. Box 645
Lyle, WA 98635


To send Frank or Kate an e-mail, our addresses are: frank@pondturtle.com or kate@pondturtle.com


Pages first went up in October 1995.

Copyright &copy 1996, 1997, 1998,1999, 2000, 2001, 2002, 2003 Frank Slavens

---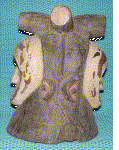 ---
.....